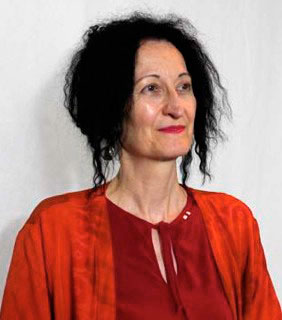 Christine Schaller has lived in various cities of Europe before settling down in Paris. She has taken part in a variety of artistic projects in the field of jazz, musical shows, theater and contemporary music.
As an improviser she has participated for a number of European ventures for new improvised music in partnership with such musicians as PAOLO RADONI and the Travelers quartet, JACQUES SIRON and the Drôles d'Oiseaux quartet, the improvisation group Le CoCo with whom she created several shows, GARRETT LIST, GIANLUIGI TROVESI, JACQUES DEMIERRE.
As a composer and arranger, she writes vocal and instrumental music. She has composed for various Jazz bands such as ACT Big Band (Brussels), radio bands and vocal groups.
As a vocalist, she was recruited as a soloist to interpret works of contemporary composers such as LUCIANO BERIO and DIETER SCHNEBEL.
As a singer and actress, she has taken part in various musical performances, some of which are her own compositions. Since 1998 she has been singing in RWANDA 94, a production on genocide staged by JACQUES DELCUVELLERIE.
As a singer and/or piano player, Christine has participated in different electro-acoustic productions.
Photo : VSP-multimedia